A no-holds-barred discussion of the sustainability of having a film career in Canada. What are the reasons talent stays or leaves? What are the conditions that could make Canada a more enticing place in which to create?
The objective of the symposium is to crowdsource actionable strategy in an environment where voices from all sectors can be heard unfiltered by external concerns. Following the panel, the filmmaking community is invited to a moderated Reddit discussion where participants can freely voice opinions and vote on proposals while remaining anonymous.
__________________________
Une discussion sans réserve sur la durabilité d'une carrière en cinéma au Canada. Pourquoi certains talents restent au pays et d'autres partent à l'étranger? Quelles sont les conditions qui pourraient rendre le Canada plus attrayant comme lieu de création?
L'objectif du symposium est de réunir des idées applicables, dans un environnement où les voix de tous les secteurs peuvent être entendues sans filtres liés à des préoccupations externes. Après la table ronde, la communauté cinématographique est conviée à une discussion modérée sur Reddit où les participants pourront partager librement leur opinion et voter sur des propositions tout en préservant leur anonymat.
MODERATOR: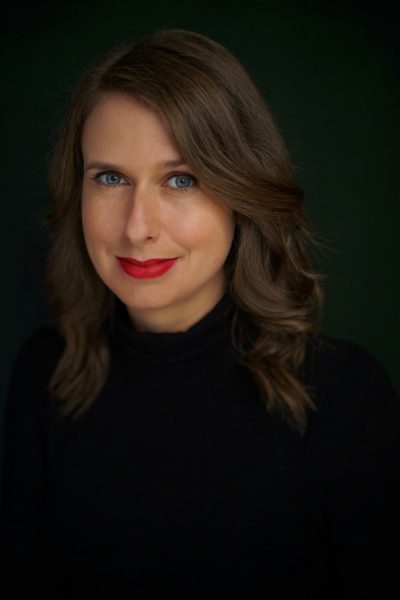 Claudia Hébert – Radio-Canada Host & Culture Reporter / Animatrice et Journaliste culturelle à Radio-Canada
Claudia Hébert graduated in film production from Concordia (BFA) and York University (MFA). As a director, she produced many short fiction films, like L'empreinte, Le Déni and Les Deuxième – which was adapted from the graphic novel by Zviane. With a background in dance, she also directed various dancefilms.  For many years, she was in charge of the cinema content for the franco-ontarien network TFO, as a host, journalist and programmer. She is now a radio host and culture reporter for Radio-Canada.
__________________________
Claudia Hébert est titulaire d'un baccalauréat de l'Université Concordia et d'une maîtrise de l'Université York en réalisation de films. À titre de réalisatrice, elle a produit de nombreux courts métrages de fiction dont L'empreinte, Le Déni et Les Deuxièmes, qui a d'ailleurs été adapté sous forme de roman illustré par Zviane. Grâce à son expérience dans cet art, elle a aussi réalisé divers films de danse. Pendant de nombreuses années, elle a été responsable du contenu cinématographique de la chaîne franco-ontarienne TFO où elle a tenu les rôles d'animatrice, de journaliste et de programmatrice. Aujourd'hui, elle est animatrice à la radio et journaliste culturelle à Radio-Canada.
---

PANELISTS: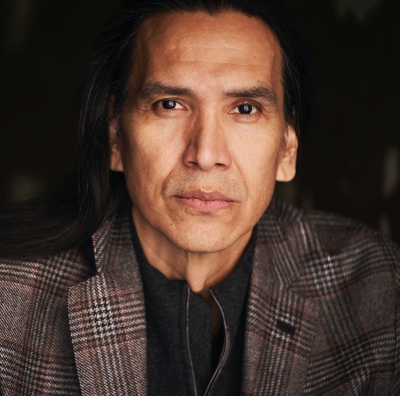 Michael Greyeyes | Actor / Acteur
Michael Greyeyes is a Nêhiyaw actor, choreographer and director from Muskeg Lake Cree Nation in Saskatchewan.  Greyeyes is the first Indigenous student to graduate from Canada's National Ballet School and join The National Ballet of Canada.  He was also a soloist in the company of American choreographer, Eliot Feld before beginning his own work as choreographer and then actor.  As a choreographer and director, his work has been seen across Canada and internationally, including: Pimooteewin, the first Cree language opera, with libretto by Tomson Highway (Soundstreams) and Almighty Voice and his Wife (Native Earth Performing Arts).  In 2010, he founded Signal Theatre and premiering several full-length dance theatre works, including from thine eyes (Harbourfront Centre), A Soldier's Tale (National Arts Centre) and Bearing for the Luminato Festival, a searing examination of Canada's Indian residential school legacy.
As an actor, he has appeared in numerous roles across stage and screen, including acclaimed performances in Woman Walks Ahead (A24), HBO's third season of True Detective, and as Traylor in Jeff Barnaby's feature film, Blood Quantum (Elevation Pictures) for which he was awarded a Canadian Screen Award for Best Actor.  He also appeared in the Emmy-winning HBO series I Know This Much Is True and can currently be seen as Terry Thomas in Rutherford Falls, a new comedy series on Peacock and Showcase in Canada.
Most recently he can be seen starring in Lyle Mitchell Corbine's debut feature Wild Indian, which premiered in competition at the 2021 Sundance Film Festival and is slated for a fall theatrical release.
___________________________
Michael Greyeyes est acteur, chorégraphe et metteur en scène nêhiyaw de la Première Nation crie de Muskeg Lake, en Saskatchewan. Michael est le premier étudiant autochtone à être diplômé de l'École nationale de ballet du Canada et à joindre le Ballet national du Canada. Il a été soliste au sein du corps de ballet du chorégraphe américain Eliot Feld avant de se lancer lui-même dans la chorégraphie, puis le jeu. À titre de chorégraphe et de metteur en scène, ses œuvres ont été présentées au Canada et à l'étranger, notamment Pimooteewin, le premier opéra en langue crie dont le libretto est signé par Tomson Highway (Soundstreams), et Almighty Voice and his Wife (troupe Native Earth Performing Arts). En 2010, il a fondé le Signal Theatre où il a présenté en primeur plusieurs œuvres de danse complètes, y compris from thine eyes (Harbourfront Centre), A Soldier's Tale (National Arts Centre) et Bearing dans le cadre du Festival Luminato, une étude fulgurante de l'héritage des pensionnats autochtones au Canada.
En tant qu'acteur, il a tenu de nombreux rôles sur les planches et à l'écran, dont des prestations acclamées dans Woman Walks Ahead (A24), la troisième saison de la série True Detective sur les ondes de HBO, de même que dans le rôle de Traylor dans le film Blood Quantum de Jeff Barnaby (Elevation Pictures) pour lequel il a reçu un prix Écrans canadiens du meilleur acteur. Il a aussi fait partie de la distribution de la série de HBO primée aux prix Emmy, I Know This Much Is True, et tient actuellement le rôle de Terry Thomas dans Rutherford Falls, une nouvelle comédie de situation diffusée sur Peacock aux États-Unis et Showcase au Canada.
Au cinéma, il a participé récemment au premier long métrage de Lyle Mitchell Corbine, Wild Indian, inscrit au Festival du film de Sundance de 2021 et qui devrait prendre l'affiche en salles à l'automne.
---
Jade Hassouné | Actor / Acteur
Known worldwide for his role as Meliorn in the hit series Shadowhunters, broadcast on Netflix, and with a community of over 330, 000 subscribers on social media, Jade Hassouné has traveled the world to participate in various Comiccon and other events allowing to join his many fans. More recently, it is in "Alertes", the new successful TVA series, that he unveils himself to the Quebec public in the role of Michael Abassi.
Colorful, vibrant and with a charisma that pierces the screen, Jade was one of the first guest judges of the popular show "Canada's Drag Race" and in 2020 released a debut EP titled "Love Letter to a Fandom" which cumulates to date nearly 200,000 plays online. Currently in the studio, he is working on new songs in French for a second EP.
His new single "Éphémère" is available on all platforms, and has made the top 100 in commercial radios in Canada (francophone) and was added to the Canadian Billboard for most added song on the radio networks. It is now debuting to play in radios in France, Belgium and Switzerland.
_______________________
Connu mondialement pour son rôle de Meliorn dans la série à succès Shadowhunters diffusée sur Netflix et fort d'une communauté de plus de 330 000 abonnés dans les médias sociaux, Jade Hassouné a parcouru le monde pour participer à diverses conventions Comiccon et d'autres événements à la rencontre des fans. Plus récemment, il a été découvert par le public québécois pour le rôle de Michael Abassi dans la nouvelle série télévisée à succès Alertes, présentée sur les ondes de TVA.
Dynamique, animé et doté d'un charisme qui crève l'écran, Jade a été l'un des premiers juges invités à l'émission populaire Canada's Drag Race, en plus d'avoir lancé un premier microalbum en 2020, Love Letter to a Fandom, qui cumule actuellement près de 200 000 écoutes en ligne. Il est d'ailleurs de retour en studio, affairé à la production de son deuxième microalbum, en français cette fois.
Disponible sur toutes les plateformes d'écoute, sa nouvelle chanson, « Éphémère », s'est hissée dans le palmarès des 100 plus grands succès des radios commerciales francophones au Canada et s'est inscrite au palmarès Canadian Billboard à titre de chanson la plus ajoutée aux réseaux radiophoniques. Ce premier extrait est maintenant lancé en France, en Belgique et en Suisse.
---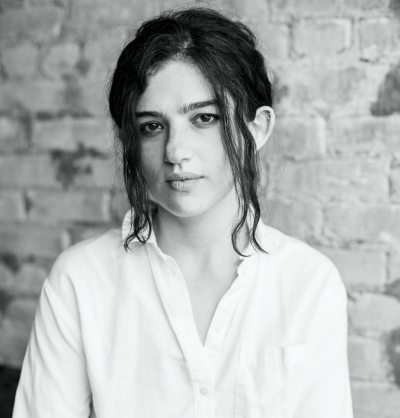 Emma Seligman | Writer & Director / Scénariste et réalisatrice
Emma is a Canadian filmmaker and 2017 graduate of NYU. Her short, Shiva Baby, premiered at South by Southwest Film Festival in 2018. The feature adaptation starring Rachel Sennott, Polly Draper, Dianna Agron, Molly Gordon, Fred Melamed and Danny Deferrari was selected to screen at South by Southwest Film Festival, Toronto International Film Festival and OutFest LA, where it won Best US Screenwriting.
In 2020, Emma was named one of Variety's 10 Screenwriters to Watch and one of Filmmaker Mag's 25 New Faces of Independent Film.
_____________________________
Emma est une cinéaste canadienne, diplômée de la NYU (Université de New York) en 2017. Son court métrage, Shiva Baby, a été présenté en grande première au Festival du film South by Southwest en 2018. L'adaptation en long métrage mettant en vedette Rachel Sennott, Polly Draper, Dianna Agron, Molly Gordon, Fred Melamed et Danny Deferrari a été sélectionnée par le Festival du film South by Southwest, le Festival international du film de Toronto et l'OutFest LA où le film a remporté le prix du meilleur scénario américain.
En 2020, Emma figurait à la liste des 10 scénaristes prometteurs du magazine Variety et à la liste des 25 artisans émergents du cinéma indépendant, compilée par Filmmaker Mag.
---
Tonya Williams | Actress & Founder of Reelworld Screen Institute / Actrice et Fondatrice du Reelworld Screen Institute
Tonya Williams is an award-winning actress and Founder and Executive Director of Reelworld Screen Institute, and Reelworld Film Festival now celebrating its 21st Year.  She has over forty-five years working in the entertainment industry in Canada and the USA. Reelworld was created to serve Canadian Indigenous, Black, and People of Colour in the screen-based sectors by providing platforms to develop and showcase emerging talent from underrepresented communities.  In 2020 Reelworld launched AccessReelworld.ca, now the largest searchable recruiting platform for racially diverse talent in North American.  Tonya currently sits on Wow Unlimited Media Board of Directors, The Black Academy Board of Directors, Telefilm's Diversity & Inclusion Group, the Canadian Media Fund Black Industry Leaders Group, Ontario Creates Industry Advisory Committee and is one of the founders and a Board Member of the Black Screen Office.  A UK, Canadian and USA citizen she lives in Los Angeles
________________________
Actrice primée, Tonya Williams est la fondatrice et directrice générale du Reelworld Screen Institute et du Reelworld Film Festival qui célèbre cette année son 21e anniversaire. Elle possède plus de quarante-cinq ans d'expérience dans l'industrie du divertissement au Canada et aux États-Unis. Elle a créé Reelworld afin d'appuyer les Canadiennes et Canadiens autochtones, noirs et de couleur des secteurs des médias en offrant des plateformes où cultiver et mettre en vitrine les talents émergents de ces communautés sous-représentées. En 2020, Reelworld a lancé AccessReelworld.ca, devenue la plus importante plateforme de recrutement interrogeable pour les talents d'origines ethniques diverses en Amérique du Nord. Tonya siège actuellement au conseil d'administration de Wow Unlimited Media, de The Black Academy, du groupe de Diversité et inclusion de Téléfilm Canada, du groupe des leaders noirs du Fonds des médias du Canada et du comité consultatif de l'industrie d'Ontario Créatif, en plus d'être membre du conseil du Bureau de l'écran des Noirs. Citoyenne canadienne, britannique et américaine, elle réside actuellement à Los Angeles.