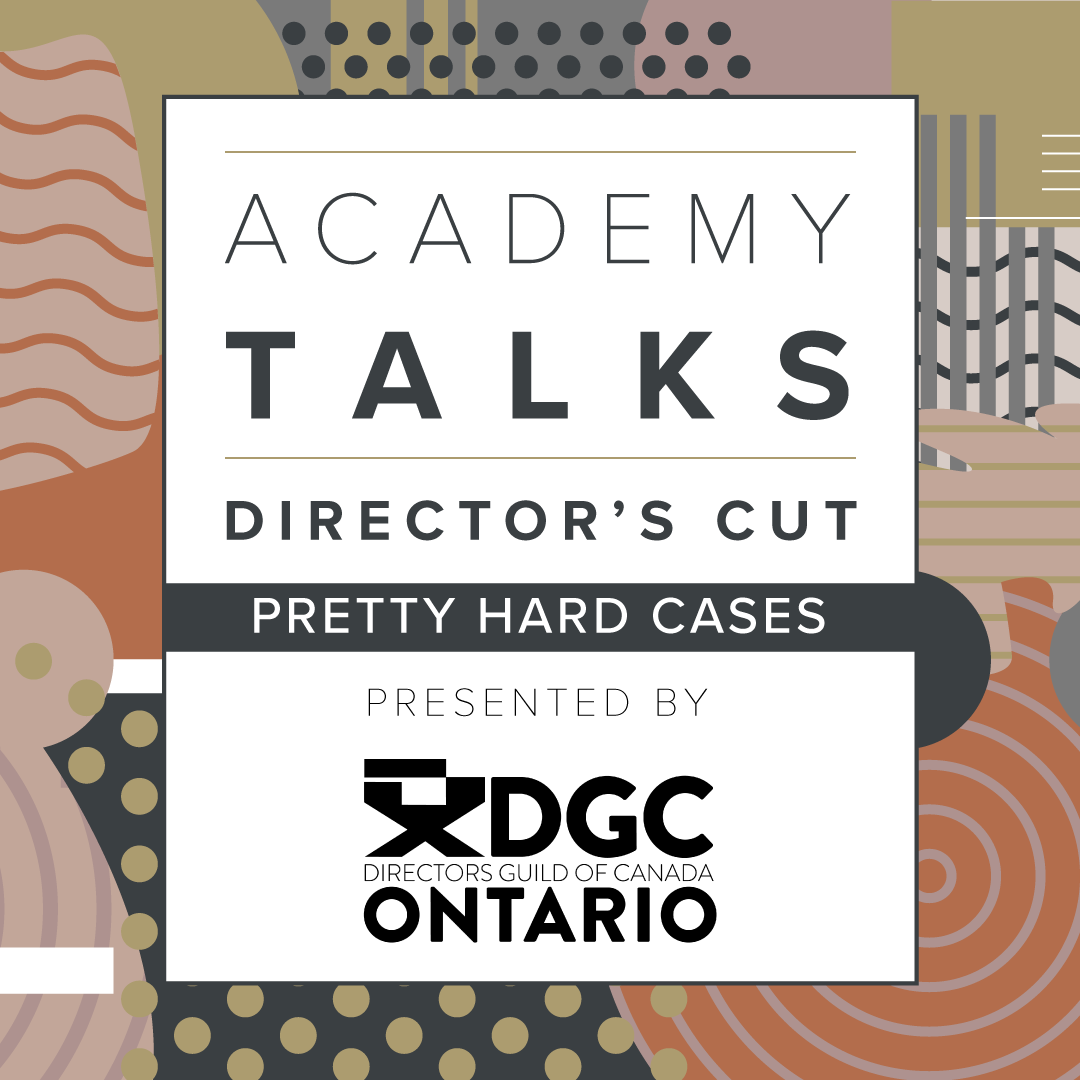 Academy Talks: Director's Cut | Pretty Hard Cases
Presented by the Director's Guild of Canada in Ontario This Director's Cut session provides a sneak peek, behind the scenes look at the new television series Pretty Hard Cases. Co-creator and director Sherry White, and season one directors Cory Bowles, Jordan Canning, and Winnifred Jong discuss directing and leading the first season of the series. Read More
Presented by the Director's Guild of Canada in Ontario
This Director's Cut session provides a sneak peek, behind the scenes look at the new television series Pretty Hard Cases. Co-creator and director Sherry White, and season one directors Cory Bowles, Jordan Canning, and Winnifred Jong discuss directing and leading the first season of the series.
Date:
Tuesday, January 26, 2021
2:00 – 3:00 PM ET
Location:
Zoom Webinar
Pretty Hard Cases
Co-created by Tassie Cameron (Mary Kills People, Ten Days in the Valley, Rookie Blue, The Robber Bride) and Sherry White (Little Dog, Frontier, Ten Days in the Valley, Rookie Blue), Pretty Hard Cases (formerly Lady Dicks) is a fun and honest portrayal of two radically different female detectives in their early 40s. 
The action-packed series follows Guns and Gangs detective Sam Wazowski (Meredith MacNeill) and Drug Squad detective Kelly Duff (Adrienne C. Moore). By day, they are heroes in their particular way: skilled, tough, determined, and entertaining, fighting to do good in a broken system. But by night, they're both grappling with loneliness, dysfunctional families, screwed-up love lives, and a sense that their professional ambitions may not be totally in line with their personal needs. Their friendship could help to balance each other out if only they didn't drive one another utterly insane.
Pretty Hard Cases premieres on Wednesday, February 3, 2021 at 9:00 PM (9:30 NT) on CBC and CBC Gem.
Panelists: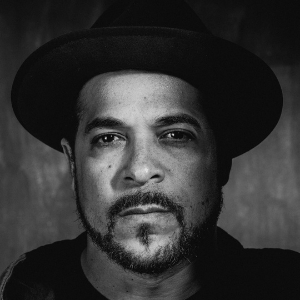 Cory Bowles | Director / Writer
Cory Bowles is a multidisciplinary artist from Nova Scotia, Canada working in film, television, dance and music. His credits include Trailer Park Boys (01–18), choreography for the children's show The Moblees (14), Studio Black! (15–16), the dance production Juliet and Romeo (17-20),  Little Dog (2018-19), and Diggstown (19– ). His first feature, Black Cop (17), premiered at TIFF and went on to earn Best Canadian Film at the Vancouver International Film Festival, Best Narrative Feature at the St. Louis International Film Festival and the John Dunning Discovery Award at the Canadian Screen Awards. In 2018 he was nominated for the Lieutenant Governor of Nova Scotia Masterworks Arts Award.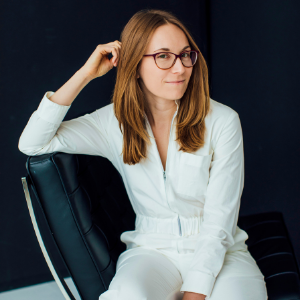 Jordan Canning | Filmmaker
Jordan Canning has directed over a dozen short films that have played at festivals all over the world, including Tribeca, TIFF and Interfilm Berlin. Her first feature, We Were Wolves, premiered at TIFF 2014. Her second, Suck It Up, premiered at Slamdance 2017 and won Best Feature Film at the B3 Frankfurt Biennale. She has directed on numerous TV series, including hour-long dramas – Saving Hope, Burden of Truth, Nurses, Family Law, Pretty Hard Cases – and half-hour comedies – This Hour Has 22 Minutes, Baroness Von Sketch Show, Little Dog, and two seasons of the Emmy-winning Schitt's Creek.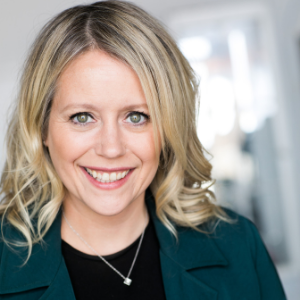 Sherry White | Showrunner / Director 
Sherry is an award-winning screenwriter, director and producer who is the co-creator and co-showrunner of CBC/NBCU's new female buddy cop series Pretty Hard Cases. Other credits include showrunning two seasons of Little Dog for CBC, as well as executive producing and writing for the ABC drama series 10 Days in the Valley and Netflix/Discovery's Frontier. Other tv credits include The Catch, Rookie Blue, Orphan Black and Saving Hope. TV directing credits include Pretty Hard Cases, Little Dog, Nurses and Burden of Truth.
Sherry also wrote the award-winning feature film, Maudie, starring Ethan Hawke and Sally Hawkins (Mongrel/Sony). She also wrote and directed the Genie-nominated feature film Crackie, which screened at over thirty festivals worldwide.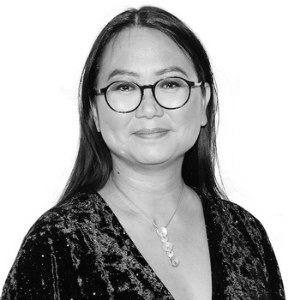 Winnifred Jong | Director
Named 2018 Playback's 5-to-Watch, Winnifred Jong is a Toronto-based, Canadian Screen Award winning filmmaker and an alumna of the Women In the Director's Chair (WIDC) and Ryerson University. Her recent directing work can be seen on CBC's Pretty Hard Cases, Coroner, Heartland and Endlings, on eOne/Global Television's Nurses and Private Eyes, and on Hallmark's Mystery 101: Dead Talk (winning a 2020 DGC Award for Outstanding Directorial Achievement).
Winnifred created the comedic web series, Tokens. Developed with WIDC and financed by Telefilm Talent-to-Watch and BellFund, it won the 2019 CMPA Prime Time Throwdown and has been viewed over 600K times. Tokens garnered four nominations at the 2020 CSAs (including Best Direction and Best Writing for Winnifred), two nominations at ACTRA Toronto (including a historic first for Best Ensemble), and festival selections worldwide.
Moderator: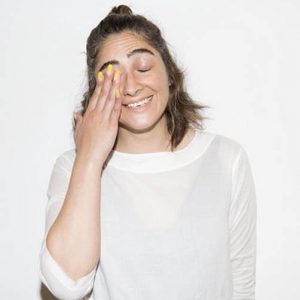 Amil Niazi | Writer / Producer
Amil Niazi is an award-winning writer and producer whose work has been published in the New York Times, New York Magazine, The Guardian and Macleans. She's also the showrunner of Pop Chat CBC, a weekly pop culture podcast.
Free for Academy & DGC Members, $10 for Non-Members
RSVP Required to attend. Registration does not guarantee admission, and precedence will be given to Academy members.