(La version en français suivra)
"You're pregnant. You need to not work in the industry. Go home, get ready for the baby and support your husband's career. He might be head of the department one day."
That's what Heather McQuillan, 36, remembers her boss telling her while she was pregnant and working in the props department for a television show, where her husband also worked. Shocked, McQuillan reached out to other mothers working in the industry—and discovered that she was not the only woman receiving this type of treatment.
"It's very much the culture of our industry," says McQuillan, whose son Maverick is now 2 years old. She describes working in TV and film as "all or nothing industry," where people take pride in 80-hour weeks and there's an understanding that if you can't manage, there are dozens of people eager and waiting to take your job.
The industry's lack of accommodation for workers shouldering childcare and family care responsibilities often leads to women leaving all together, explains McQuillan, who is now the executive director of Reel Families for Change Canada. "We find that women tend to have to sacrifice their careers, and men end up sacrificing their time with their families," she says. And experts fear the pandemic is making things much worse.
Across Canada, and in various industries, the ongoing COVID-19 pandemic is forcing women — especially women of colour — out of the workforce. The impact on women has been so great that the economic recession caused by COVID-19 has been referred to as the first "she-session."
At the onset of the pandemic last March, Women in Film and Television (WIFT) Canada Coalition set up online check-ins to see how their members across the country were faring. Susan Brinton, the Coalition's project manager, says it was clear from those sessions that women working in film and television, much like women in other industries, were struggling.
"It was either that women are in low-paid positions that put them more at risk [of losing their jobs], or they're having to make the choice of staying home to look after the kids because the kids are now at home," says Brinton.
Prior to the pandemic, things were improving. McQuillan notes that unions were starting to support the need for childcare. Celebrities, like Carey Mulligan, were speaking out about how the film industry could better support working mothers. There was also an increasing openness to mothers bringing children to work or having on-set childcare, which McQuillan says is "transformational" for those working long hours. In 2019, film festivals including Cannes, TIFF, Venice and San Sebastian also began offering designated areas for changing and feeding, and support for childcare.
Producer Julie Baldassi had her son, Elliot, in August 2019 and brought him to the Sundance Film Festival in January, but the festival lacked support for mothers. "There was a lot of breastfeeding in really strange places, like in hotel lobbies, in restaurants," recalls Baldassi. "There was one moment where I literally had to start breastfeeding him in a parking garage."
Julie Baldassi working on "My Dead Dad's Porno Tapes" / LaRue (2017)
During the pandemic, Baldassi and her husband, who also works in the industry, have found a rhythm of balancing childcare duties with their workload. "We're basically doing a full-time job in part-time hours," says Baldassi, which she and her husband, cinematographer Michael LeBlanc, are self-employed and able to work flexible hours. Her most recent project was shot in Nova Scotia over the summer, but when COVID-19 restrictions made it impossible for her to bring her family to the East-coast set, she ended up producing the film remotely from Ontario.
Experts worry the pandemic may undo progress for women in the workforce, and McQuillan and Brinton share those concerns for women and parents in screen industries. "I definitely have a huge concern about sliding back and sliding back quickly, unless we actively pursue solutions that solve the problems," says McQuillan.
To better understand the impact the pandemic is having on women in screen industries, WIFT partnered with Reel Families and, with the support of the Canada Media Fund, launched an industry-wide online survey in January. McQuillan explains that though she has a good inkling what the results may show, the hope is that the survey will provide concrete numbers to demonstrate specific barriers women are facing and whether supports vary, for instance, in independent films, unionized films or live projects.
"It was difficult before the pandemic for women in this industry — especially when you are looking below-the-line at unions and guilds, where it was difficult for women to progress — and I think the pandemic has actually made it worse," says Brinton.
Brinton adds that they understand this survey may not paint a full picture of intersectional and systemic issues so the research team is conducting additional focus groups and interviews with Indigenous women and women of colour. (In 2017, less than 2% of TV contracts went to Canadian women of colour. In film, less than 2% of writers and 5% of directors were women of colour. There were no contracted cinematographers who were women of colour.)
In the years leading up to 2020, there was a significant push to make screen industries more inclusive, but some worry that momentum has been lost, or at least slowed down due to the pandemic. Director Haya Waseem says beforehand, there were more projects looking specifically for women or diverse perspectives, but now, "things are murkier" because of the overall scarcity of opportunities, plus travel and COVID-19 restrictions that have to also be considered. Waseem, who lives in New York City and shot her first feature film in 2020, says the pandemic has made her rethink the industry's "all or nothing" mentality and re-examine her work-life balance.
Director Haya Waseem on set / @hayawsm (Twitter)
"Women are used to adversity," says Waseem. "We are constantly making progress and the pandemic has impacted everybody —women, mothers — and I think it's just another phase in our existence to keep pushing."
So far, more than 200 women have responded to the new "Child and Family Care in Canada's screen-based industries" survey. With the resulting data, McQuillan says organizers plan to identify what changes, such as flexible work hours or on-set childcare options, could help support and retain women in Canada's screen industries.
With everyone staying home, Brinton also hopes there may be a greater appreciation of what women and families need to be able to work, whether that means normalizing accommodations for parents or the government providing universal childcare. Data is still being collected, but Brinton says the need to better support women and parents in Canada's screen industries is pressing. "Something has to change, for sure."
Written for the Academy by Ishani Nath.
---
Les femmes, la pandémie et l'industrie des médias visuels
« Tu es enceinte. Tu n'as pas besoin de travailler dans l'industrie. Retourne à la maison, prépare la venue du bébé et soutiens la carrière de ton mari. Il pourrait très bien diriger son service un jour. »
Ces mots, Heather McQuillan, 36 ans, se souvient de les avoir entendus de son patron alors qu'elle était enceinte et travaillait au service des accessoires d'une émission de télévision sur laquelle travaillait aussi son mari.
Abasourdie, Heather s'est tournée vers d'autres mères au sein de l'industrie pour découvrir qu'elles faisaient l'objet du même type de traitement.
« C'est réellement ancré dans la culture de notre industrie », affirme Heather dont le fils, Maverick, a maintenant deux ans. Elle décrit le travail en télé et cinéma comme une « industrie du tout ou rien » où les gens se vantent d'enfiler les semaines de 80 heures et où on vous laisse entendre que si vous ne pouvez pas gérer ce rythme, des dizaines de gens n'attendent que de prendre votre job.
L'absence d'accommodements pour les travailleurs qui assument des responsabilités de soins familiaux ou de garde d'enfants amène souvent les femmes à quitter carrément l'industrie, explique Heather, aujourd'hui directrice de Reel Families for Change Canada. « Selon nos données, les femmes tendent à sacrifier leur carrière et les hommes, à sacrifier le temps consacré à leur famille », souligne-t-elle. Et des experts craignent que la pandémie envenime la situation.
Partout au Canada, au sein de diverses industries, la pandémie de COVID-19 contraint les femmes (et particulièrement les femmes de couleur) à quitter le marché du travail. Les répercussions sur les femmes sont si considérables qu'on désigne la récession économique provoquée par la pandémie de « récession au féminin ».
En mars 2020, au début de la pandémie, la coalition canadienne Women in Film and Television (WIFT) a mis en place une initiative en ligne pour faire le suivi de la situation de ses membres partout au pays. Selon Susan Brinton, chargée de projet de la coalition, ces séances ont clairement démontré qu'à l'instar de leurs compatriotes d'autres industries, les femmes qui œuvrent en cinéma et à la télévision éprouvaient des difficultés.
« Soit les femmes occupent des postes au salaire bas qui les mettent davantage à risque [de perdre leur emploi], soit elles doivent faire le choix de rester à la maison parce que les enfants sont aussi à la maison », explique Susan.
Avant la pandémie, la situation des femmes s'améliorait. Heather McQuillan souligne que les syndicats commençaient à appuyer les revendications liées à la garde d'enfants. Des célébrités comme Carey Mulligan parlaient ouvertement des façons pour l'industrie du cinéma de mieux soutenir les mères au travail. On voyait aussi une plus grande ouverture aux mères qui amènent leurs enfants au travail ou à la mise en place de services de garde d'enfants au travail – des changements que Heather estime être transformationnels pour le personnel qui travaille de longues heures. En 2019, des festivals de cinéma comme ceux de Cannes, Toronto, Venise et Saint-Sébastien ont commencé à offrir des lieux désignés pour langer et allaiter les bébés, ainsi qu'un soutien à la garde d'enfants.
La productrice Julie Baldassi a donné naissance à son fils, Elliot, en août 2019 qu'elle a amené au Festival du film de Sundance en janvier, mais l'organisation n'offrait pas de soutien aux mères. « J'ai dû allaiter à des endroits très bizarres comme des halls d'hôtel et des restaurants, souligne-t-elle. À un moment, j'ai commencé à l'allaiter dans un stationnement souterrain. »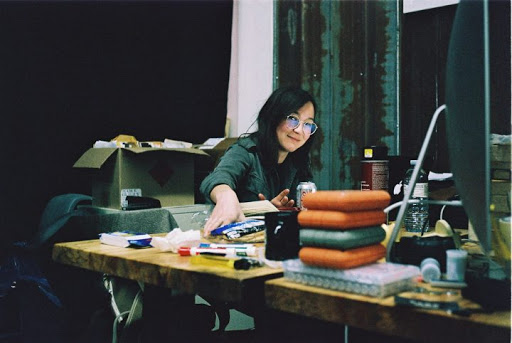 Au cours de la pandémie, Julie et son mari, qui œuvre aussi dans l'industrie, ont trouvé un nouveau rythme pour équilibrer leur travail et la garde d'enfants. « En gros, nous effectuons un travail à temps plein selon des quarts à temps partiel », explique-t-elle. Comme elle et son mari, le directeur photo Michael LeBlanc, sont travailleurs autonomes, leur horaire de travail est flexible. Son projet le plus récent a été tourné en Nouvelle-Écosse l'été dernier, mais comme les restrictions liées à la COVID-19 l'empêchaient d'amener sa famille avec elle en Atlantique, elle a produit le film à distance, depuis chez elle en Ontario.
Des experts s'inquiètent de voir la pandémie défaire le progrès réalisé par les femmes sur le marché du travail; une préoccupation que Heather et Julie partagent au sujet des femmes et des parents dans l'industrie des médias visuels. « Si nous ne cherchons pas activement des solutions à ces problèmes, je crains vraiment une dégringolade rapide », affirme Heather.
En janvier, pour mieux comprendre les effets de la pandémie sur les femmes dans l'industrie des médias visuels, la WIFT s'est associée à Reel Families pour lancer une enquête en ligne auprès de l'ensemble de l'industrie, avec l'appui du Fonds des médias du Canada. Quoiqu'elle ait une bonne idée de ce que seront les résultats, Heather espère que l'enquête permettra d'obtenir des chiffres concrets qui illustrent les obstacles spécifiques auxquels les femmes sont confrontés. Il sera aussi intéressant de voir les différences entre les films indépendants, les tournages syndiqués et les projets en direct.
« La situation dans l'industrie était déjà difficile pour les femmes avant la pandémie, particulièrement du côté des syndicats et des associations hors média où la progression est ardue pour les femmes. Je crois que la pandémie a empiré le tout », affirme Susan Brinton.
Elle ajoute comprendre que cette enquête ne permettra peut-être pas de brosser un portrait complet des enjeux intersectionnels et systémiques. Voilà pourquoi l'équipe de recherche tient également des groupes de discussion et des entrevues auprès des femmes autochtones et de couleur. (En 2017, moins de 2 % des contrats de télévision étaient accordés à des femmes canadiennes de couleur. Du côté du cinéma, moins de 2 % des scénaristes et de 5 % des réalisatrices sont des femmes de couleur. Il n'y avait aucune directrice photo de couleur.)
Au cours des années qui ont précédé 2020, des pressions ont été exercées afin de rendre l'industrie des médias visuels plus inclusive. Cependant, certains craignent que cet élan ait été ralenti ou se soit même brisé en raison de la pandémie. La réalisatrice Haya Waseem indique qu'avant 2020, il y avait un nombre croissant de projets qui visaient une perspective féminine ou diversifiée, mais qu'à présent, « la situation est plus floue » en raison d'une pénurie généralisée d'occasions. En outre, il faut tenir compte des restrictions liées à la COVID-19 et aux déplacements. Résidente de New York, Haya a tourné son premier long métrage en 2020, mais elle affirme maintenant que la pandémie l'a amenée à repenser la mentalité du « tout ou rien » qui règne au sein de l'industrie et à réexaminer son équilibre travail-vie personnelle.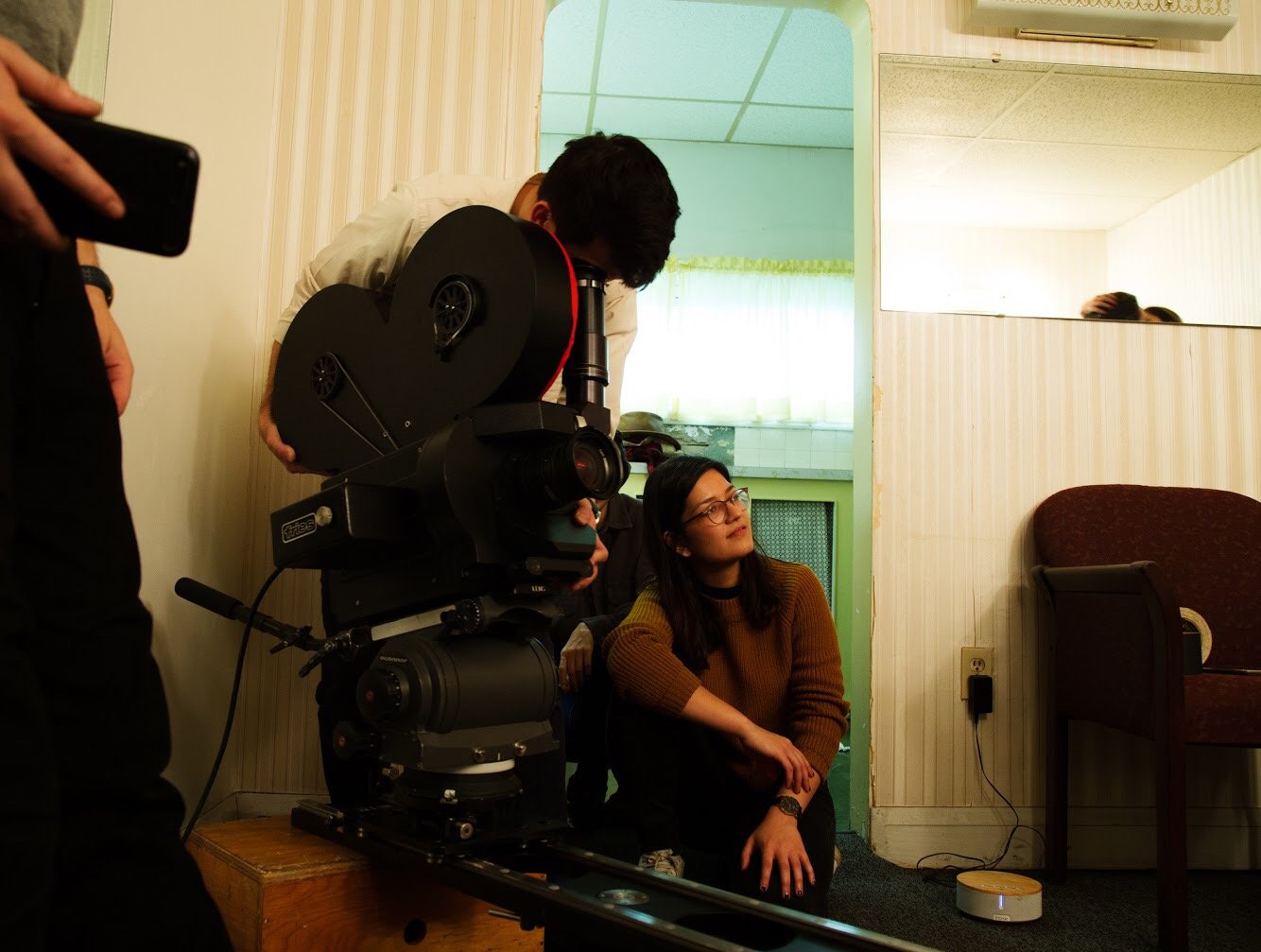 « Les femmes ont l'habitude de l'adversité, affirme-t-elle. Nous faisons constamment des progrès et la pandémie a des répercussions sur tout le monde : les femmes, les mères. Selon moi, ce n'est qu'un autre stade de notre existence où nous devons continuer de repousser les limites. »
À ce jour, plus de 200 femmes ont répondu à la nouvelle enquête « Responsabilités liées aux enfants et à la famille dans l'industrie des médias visuels ». À partir des données recueillies, Heather McQuillan explique que les organisateurs planifient d'indiquer quels changements (tels que des horaires flexibles ou des options de garde d'enfants) pourraient appuyer et retenir les femmes dans l'industrie au Canada.
Dans le contexte actuel où tout le monde doit rester à la maison, Susan Brinton espère aussi qu'il y aura une meilleure reconnaissance des besoins des femmes et des familles pour poursuivre le travail, qu'il s'agisse de normaliser les accommodements pour les parents ou la mise en place d'un système public et universel pour la garde d'enfants. La collecte des données se poursuit, mais Susan Brinton affirme qu'il y a un besoin urgent pour un meilleur soutien des femmes et des parents de l'industrie canadienne des médias visuels. « Une chose est certaine : des changements s'imposent. »
Écrit pour l'Académie par Ishani Nath