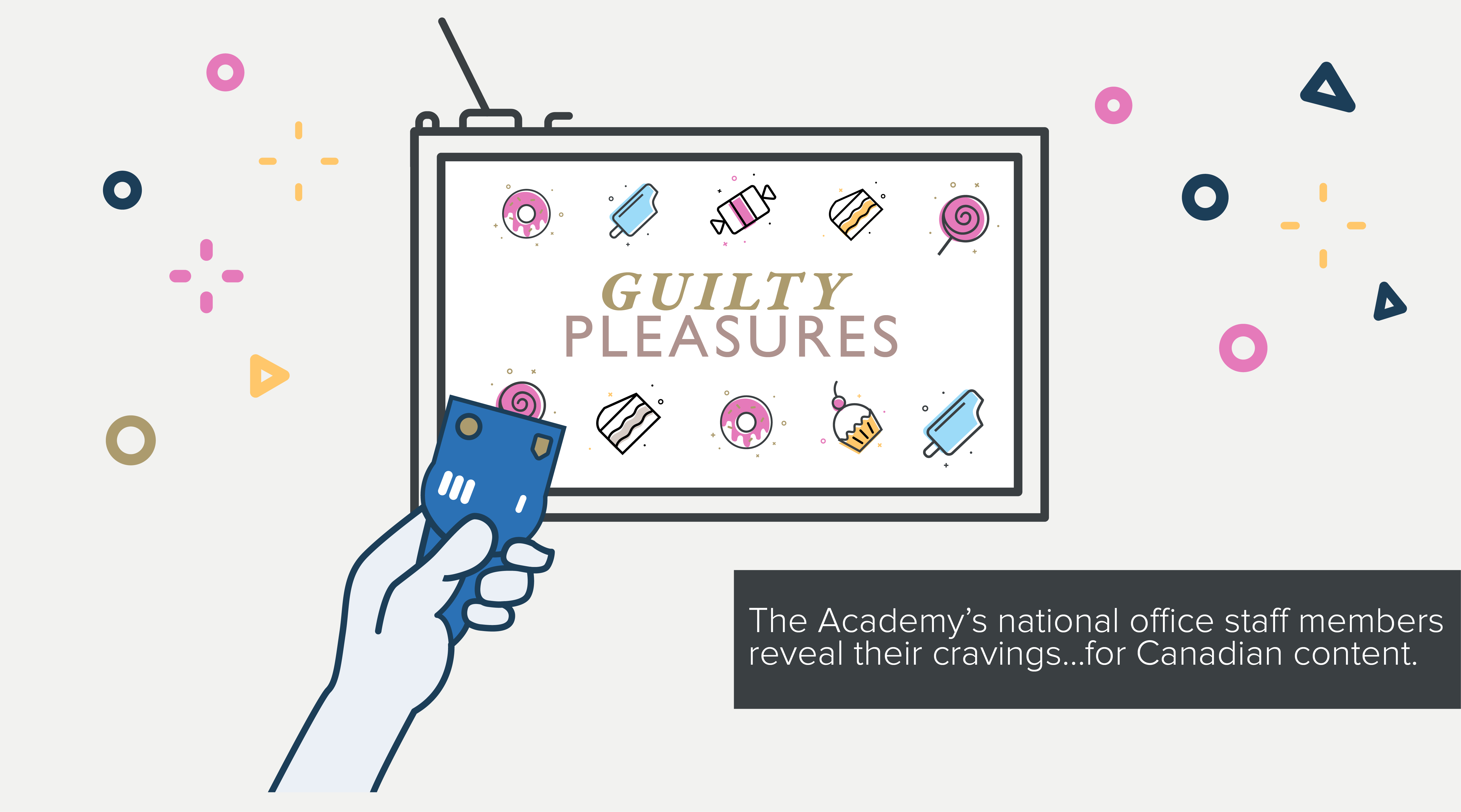 Canada is riding the nostalgia wave.
The CBC, once labelled as another keen public broadcaster has gone vogue, with its original logo taking centre stage in a line of Canadiana-themed apparel by Arborist, and sold at the very trendy and millennial-savvy Drake General Store. Heritage Minutes, once scoffed at for interrupting television to actually – God forbid – teach history, are making a comeback, featuring prominently on Historica Canada's Instagram page, and being broadcast to their nearly 9.5k followers. In light of this renaissance (or #tbt if you'd rather), we live in an era where taste shaming – that is, making someone feel ashamed because of their affinity for a clothing brand, music genre, or you guessed it, screen content – should have passed. After all, we know that what was once eschewed for being too "basic" eventually earns its stripes for being accessible to the everyman. Even the downright terrible gains credit for sticking in our minds – earning its warm and fuzzy place in our hearts by reminding us of the concept of nostalgia itself. Yet still, taste shaming persists.
In the Academy's national office taste shaming is particularly prevalent. Miranda Disney is the Academy's Manager of Marketing and Development. She also happens to be a major fan of the Bachelor Canada franchise. "Though the skills of its editing team are beyond reproach, I can comprehend a number of levels on which loyalty to the Bachelor / Bachelorette franchise could be considered shameful, not least of which is the reason I keep going back for more," says Miranda. Reality series often play into this notion that it's good to be bad, often showcasing ruthless behaviour that's so unbelievable, you really couldn't make this stuff up. According to Miranda though, that's what keeps her interested: "There is a sick pleasure in witnessing the depths of indignity to which a human is willing to go for the ultimate prize – a hair-gummy sponsorship on Instagram." She's right – if The Bachelor Canada really was just a show about finding love, sans drama, its viewership would plummet. And despite the knocks and jabs that reality shows and their viewers may receive, they continue to thrive off their popularity – maybe even off of their infamy. According to Playback, in 2017 the most-watched show across the major Canadian broadcasters was The Amazing Race Canada, with shows like MasterChef Canada and Big Brother Canada also nabbing top spots.
Jennifer Stewart, Vice President of Partnerships and Communications once got her kicks watching pre-millennium Canadian cooking shows, like What's for Dinner?, The Galloping Gourmet, and Wok with Yan. Jennifer confesses that though she knew the shows were "cheesy" (and if you think she's being harsh, please reference Stephen Yan's many punny apron sayings), they captivated her attention better than any of the "really good cooking shows out there now." "I feel like those cooking shows were goofy and engaging and fun," says Jennifer. When asked why people might taste-shame her for those shows, she notes, "Generally, people who are 'serious' about filmed entertainment hate to admit that they love and watch any kind of reality programming."
Jennifer raises an interesting point. If a genre as a whole elicits criticism, then its content can only be considered par for the course – in a sense, it doesn't stand a chance if the umbrella of "reality programming" has already generated criticism. In terms of CanCon though, the "content" part is often not even the issue, rather, many criticisms point towards its very Canadianness. Lawrence Yee, the Academy's Senior Marketing and Development Coordinator discusses his love of Canadian television saying, "Once told [that certain shows were] Canadian, [they were] somewhat brushed off." Katie Elder, the Academy's Member Relations Coordinator has had a similar experience. She lauds The Great Canadian Baking Show, saying that though others may praise its British predecessor, her love for the show stems from how "many of the challenges are intrinsically 'Canadian,' integrating ingredients and cultures from small hometowns across Canada." "But most of all," adds Katie, "[I appreciate] the camaraderie and good-willing attitude of the show. While many other competition-based shows are intense, pitting competitors against each other, The Great Canadian Baking Show upholds a sense of competition while still allowing for fellowship." She paints a picture of the Canadian spirit: "Competitors often encourage and high five each other, mourn the loss of one of their eliminated friends, and even go above and beyond to take a break from constructing their baking creations to help others during competition time. The show is a fun way to spread a little kindness while also fantasizing about five layer cakes, fondant, and baskets of bread rolls."
There's nothing wrong with a little Canadian kindness, and we need to associate the idea of Canadianness with something that should be celebrated. Lawrence makes a similar point, referencing groundbreaking shows like Flashpoint: "Since it was filmed in Toronto with references to the city in the story, it was cool to say that I've been there…I'm proud of our city, and I feel it doesn't get enough credit as a location to be used in fictional storytelling." There is something exciting and comforting about Canadian representation onscreen: there's something about driving past the Kim's Convenience storefront on Queen Street East, or spotting the Toronto skyline in an episode of Save Me. It tells Canadian viewers that their stories matter, and that the Canadian dream is alive and well.
Taste shaming too is alive and well. But speaking to my coworkers, it became clear that this conversation was not about inherently shameful content; it was about passion and an exploitation of vulnerability. Louis Calabro, our Vice President of Programming tells me about his obsession with music videos, particularly Drake's iconic "Hotline Bling" video, which was made by "one of our country's most relevant directors working today, Director X, [and] was probably the first music video made for the 'meme' age.  Putting aside the fact that this video created an international storm of internet content…I found the video stylish and modern…something an entire world could become obsessed with." Louis described how "those who only saw the memes, or were not familiar with Director X's work, and dismissed the video as another work of pop culture, could never truly understand the brilliance within." It's ultimately up to each of us to stand up and applaud that brilliance, forbidding the dismissal of content for being too basic or too weird.
In fact, it's on yet another reality show, Queer Eye, a favourite of both mine and Jennifer's (that both of our partners are more than happy to poke fun at us for), that Canadian Antoni Porowski discusses this idea of conformity. "When I first came out, I was sort of really uncomfortable with the fact of like well how are people gonna judge me. So what I could control was how I behaved around other people. I have to make everybody laugh." Much like using humour as a defense mechanism, shaming other people for their taste allows you to "control the amount of intimacy and vulnerability that you're giving off or not giving off." Antoni continues, "what I learned is, the more comfortable I am with myself, the more I'm sort of the same guy with everybody else, or at least it starts to bleed." The same goes for taste shaming. The more comfortable you become with your own personal taste, the more that it becomes integrated in your outward facing personal brand, and ultimately, the result is a cohesive and confident sense of self.
"You got this."
Written for the Academy by Kathleen Walsh
Illustration designed for the Academy
The Bachelor Canada trailer
What's for Dinner? still
The Great Canadian Baking Show GIF
Save Me episode, "Code 5"
"Hotline Bling" GIF
Queer Eye trailer