Each year, the Academy hands out a series of special awards to those people whose dedication and contribution to our industry have affected change and recognition in and beyond our borders. Like the names sake of the awards they are given, these are people who display tireless efforts through their passion and their work to further the impact of Canadian film and television, whether it's giving untested young filmmakers a chance to work with a micro-budget, challenging the misconception of how a culture is portrayed on screen, or altering perspectives about aquatic wildlife so that fear becomes respect.
These are the disruptors, the filmmakers unafraid to confront the status quo, the industry veterans and newcomers who struggle to push the industry toward a new way of thinking and a fresh way to tell our stories.
We chat with a few of this year's winners of the Academy's Special Awards, plus, a few people with intimate connections to the pioneers and heroes that inspired these awards.



Tantoo Cardinal




Winner of the Earle Grey Award
The Earle Grey Award honours Canadian performers whose work in television has had a long and impactful effect on the industry. It's a prerequisite that seems tailored to suit Cardinal's career in the industry that often overlooks women and Indigenous peoples. For over four decades, Cardinal has maintained a significant presence in both television and film.
"Tantoo has worked on iconic television shows and international films throughout her career, and continues to appear in important Canadian and international projects," says Louis Calabro, Vice President, Programming at the Academy of Canadian Cinema and Television.
And though Tantoo's schedule doesn't allow for a one-on-one conversation (a testament to her growing body of work), her list of credits and awards speak on her behalf. Cardinal has earned several lifetime achievement awards and awards of excellence in Native American filmmaking, and in 2009 she earned a Governor's General Award for her contribution to "the growth and development of Aboriginal performing arts in Canada."
Cardinal's career is laced with a fearlessness that falls comfortably into what could be called a disruptor movement, a healthy ability to confront the status quo head-on to effect change, whether it's rewrites to scripts that misrepresent the Native experience, or marching on Washington (and subsequently being arrested) in protest against the Keystone pipeline.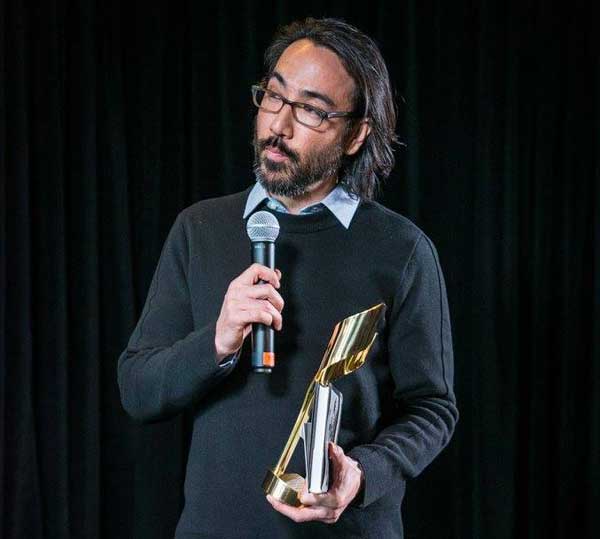 Randall Okita

Winner of the John Dunning Discovery Award
Director Randall Okita (The Lockpicker, The Weatherman and the Shadowboxer) is the winner of the inaugural John Dunning Award for his first feature, The Lockpicker.
John Dunning helped launch the careers of countless iconic Canadian filmmakers, like David Cronenberg, Ivan Reitman, and Don Carmody, through his production and distribution company, Cinepix.
"It's the Academy's goal to showcase the next wave of filmmaking talent currently making movies on 'micro-budgets,'" says Calabro. "Who better to name this award after than John Dunning, who was a pioneer in this respect."
I speak to Okita about what it means to win the inaugural John Dunning Discovery Award.
Randall Okita: Such an honour and a treat. Such a wonderful surprise and a meaningful award for a film of our size to be recognized, especially in such a competitive area. There's [sic] a lot of films out there and so for a film like ours, for that kind of spotlight and that kind of award and recognition, it literally changes the trajectory of the life of the film, and brings us a little bit more attention and a little bit more visibility, and that just has a huge effect. As you know, it's such a long road to make a film, and for this one for me especially, it's such a personal, small film in many ways, that it is nice to be recognized, and for other people to get a chance to hear about it, see it. And then particularly – John Dunning and his son Greg Dunning who put together this award and the nature of it legacy, which is such a wonderful one of loving movies and really trying to give back and help filmmakers grow and help discover new talent.
Tell us about the importance of storytelling, and why you choose film as the tool to tell your stories.
Storytelling is just a universal human experience, in that story and narrative are how we make sense of our place in the world. It's how we remember things. It's how we communicate ideas. It's how we connect with our past. It's how we connect with our potential. It's such an active, alive, ongoing process I think in all humans that it's such a wonderful thing to engage in that. And for me I'm always trying to illuminate paths to ideas that I want to share or experience and bring people to and share with them. I think it's essential to everyone. I'm interested in how narrative is a tool and how it services the understanding, processing, and recovering from traumatic events. Film brings everything together. There's a lot of movie watching going on. Such an accessible language.
In the act of storytelling you're trying to pique curiosity, to connect with or awaken a passion and idea in a way that hasn't been done before, or in a way that will bring somebody to a world that they haven't been familiarized with. So, I feel like it's our job to constantly disrupt what the current patterns are, or what a normal trajectory might be. I think we're always trying to shake things up a bit.
It's like a new way of telling a joke. Or sometimes you want to seduce an audience, or shock an audience. On a bigger landscape, you want to disrupt what's going on. There's a tendency of an industry, or the tendency of a community, can often be to follow the path of least resistance, and sometimes we must disrupt that to keep people honest and tell better stories and affect the world in the way we want to. Coming up with a fresh way to look at an old problem.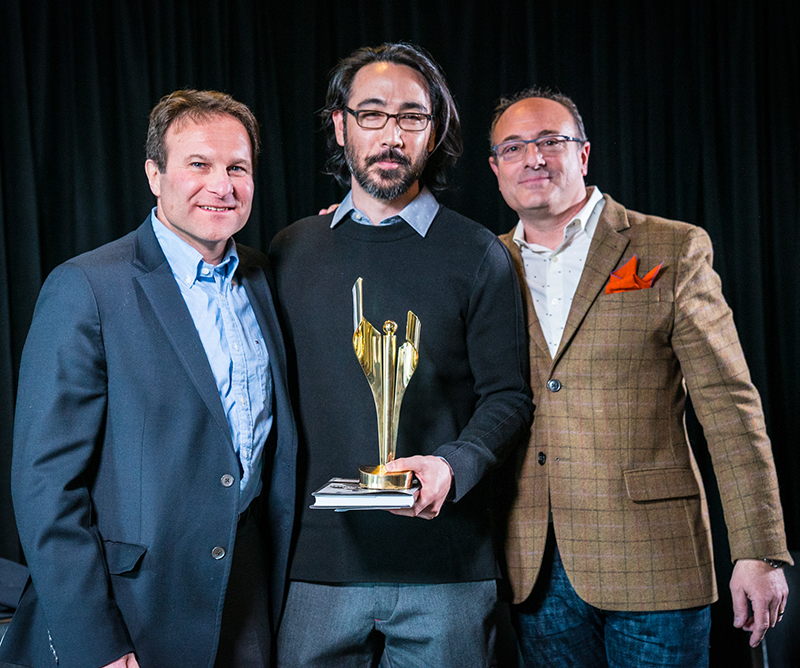 Greg Dunning


Founder of the John Dunning Discovery Award
2017 saw the inauguration of the John Dunning Discovery Award. Dunning's son, Greg, is largely responsible for this award coming to light.
What was life like being the son of one of Canada's more prominent film producers?
Among my acquaintances and some of my mother's friends, they perceived that John must have led (the life of a) "Hollywood Producer." Their perception would be driven by what they saw on TV. However, those who really knew him understood that he was a reserved and devoted family man. He was never interested in being in front of any camera, unless it was for a family photo in front of the Christmas tree.
When my sister and I were toddlers and were learning to read, my parents did not read us nursery rhymes. When John got home from work, all four of us picked characters we would play and we would act out the stories in the living room.
Discuss the rebranding of The Discovery Award as the John Dunning Discovery Award.
In his 80's, John feared that his life and work would be forgotten. I wanted to do something for him that would encourage people to think about him. I asked Don Carmody for help with my project and one month later it was all figured out for me. A double-thumbs up to Canada's most prolific producer!
Did your father have any specific take on storytelling – how it's done, what stories need to be told, who should tell them?
John was a voracious reader. I believe he simply thought that stories are important whether it is a book, a poem, a play, a movie, TV show, etc. He would never presume to judge what stories should be told, or who should tell them, but he required his own stories, or others he adapted, to be entertaining, measured by bums in seats.
How important to your father was cinema as a tool for storytelling?
Cinema was John's medium, since his father Samuel ran cinemas in the early 1920s. If John were alive today, he would have adapted his new stories to television. Cinema has an advantage that it combines words, images, and music in one experience, and that makes it more accessible to an audience.
How did your father encourage or inspire upcoming Canadian filmmakers?
[John] ran a production company and gave young and inexperienced people a chance to prove themselves by working in his company. You wanted to work hard for John. You wanted him to be happy with your work. He had the gift of inspiring people. He believed in taking measured risks.
Talk about your father's relationship with David Cronenberg.
My father tells David's early story in his memoir (You're Not Dead Until You're Forgotten). Briefly, David decided that he had to choose between auteur and commercial filmmaking, and fortunately for us he chose the latter. John gave David the opportunity to make his first two commercial films, Shivers and Rabid. David, Don Carmody, Ivan Reitman, Danny Goldberg, George Mihalka, Jeff Sackman, Christian Larouche, George Erschbamer, Mike Paseornek, David Mitchell, Larry Kent, Marie-Josèe Raymond, and Jean Lafleur would all tell you that Cinepix was their real film school, and John was their mentor.
How might an award like the John Dunning Discovery Award continue to inspire filmmakers?
I'm hoping the recognition and the financial prize will encourage more filmmakers to submit their work to The Academy. My objective is to keep raising the monetary reward part of the prize, so that the award will be handed out at the Canadian Screen Awards Gala on national TV, and that it has the chance to reach a bigger audience every year. Good for the filmmaker, good for John's legacy.

Sandy and Brian Stewart


Parents of late documentarian Rob Stewart
During the 2017 Canada Screen Awards' tribute to the late documentarian and environmental activist, Rob Stewart, the Academy announced the inauguration of the Rob Stewart Award. Stewart died in a tragic accident while filming underwater for his next film. His parents, Sandy and Brian Stewart, graciously took the time to talk about their son, his environmental and cinematic influence, and the legacy he leaves behind. The following is a condensed account of our conversation.
What were some early indications in Rob's childhood that revealed a passion for aquatics and filmmaking?
From an early age Rob had a fascination with fish, the more unusual the better. By age ten he knew more about fish and various species than his science teachers. This love of unique creatures led to a house full of crazy unique fish, rays, iguanas, boa constrictors, green pythons, and monitor lizards – some with unique personalities. At the age of nine he saw his first shark, and his life changed forever. His first underwater camera was purchased after that sighting. That led him to become a wild life photographer. He subsequently was published by leading publications and numerous photo journals.
At age thirteen Rob wanted to learn how to dive. We learned as a family, and Rob proved to be a natural – first in and last out.
In what ways were you able to support and help him meet his goals and ambitions?
We believed in feeding the passion, encouraging both he and his sister, Alexandra, to pursue what interested them and learn all they could about it. But making the films, the creative vision and execution was entirely Rob. 
For Sharkwater, he wrote the story, shot the footage, negotiated his way onto boats to shoot, convinced various likeminded people to help provide services, companies to provide products, and friends to help move equipment around the world. It took five years to cobble together the footage and money to finish the film. There was no funding for a first-time filmmaker, and no one wanted a beautiful doc [sic] on sharks. After filming, he negotiated rock bottom pricing to complete it – the result: an award-winning film with over 50 international awards, and still to this day, one of the highest-grossing Canadian documentaries in the last ten years. Sharkwater is being featured as one of Canada's 150 for country's 150th anniversary.
How important was cinema and the art of storytelling to Rob? How important is it to you?
Rob knew the story was everything, and worked hard on his films to make sure the story was there. He also knew getting the audience emotionally invested in the story was a key ingredient to success. He loved adding action. Docs [sic] have a message, but Rob understood they had to be entertaining for viewers to watch.
Rob's success with Sharkwater changed how documentaries can be made – they can have a story, they can be an adventure, they can have characters (real people), they can move you, engage you to take action. Since Sharkwater's success, numerous other documentary filmmakers have joined this style, including films like The Cove, for example.
We have been told many times, Rob changed documentary filmmaking. Sharkwater and Revolution were docs [sic] with a story. They had action and adventure. Beautiful footage. Limited time with talking heads. Younger people were also featured, he felt they owned the future. Compelling music matters. Always an upbeat ending. Inspirational. His script and story for Sharkwater Extinction follows this style as well.
There must be a story, a journey to go on. Something to discover. Something to create a reaction. Something to learn, teach, educate. Something to motivate involvement. A call to action. Otherwise, why make the movie?
What legacy does Rob leave in the documentary film industry, and in the area of aquatic-wildlife?
Sharkwater brought the issue of shark fishing to the world stage, and changed laws and public policy throughout the world, and spawned numerous groups into action to save sharks. Now most countries ban shark finning in their waters. [Rob] has inspired numerous filmmakers and many young people to study conservation and marine biology. A research vessel and former whaling ship will be named Sharkwater, in his honour on July 27th. Rob's work has launched an enormous amount of conservation work worldwide.
[Rob] taught us that change starts within ourselves. We all have a passion and a story to tell. We have to take action to make this a better world for all.  Rob believed mankind must learn "to live in balance with nature."
What does The Rob Stewart Award mean to you in terms of honouring his memory, and in ways that his legacy might continue to inspire others?
Rob would have been thrilled with this award. It's difficult to fund docs [sic] – impossible if you are a new filmmaker – and this will give five new filmmakers something to launch from. We are proud that the award will honor his memory and his legacy. Young filmmakers may share a similar passion for the environment, but they don't have the resources to bring their stories to light. This award will help them to realize their dreams and, inspired by what Rob accomplished in such a short time, continue his fight to protect the earth. The award will also give new filmmakers recognition, which will always help them with future projects. 
We are deeply grateful to the Academy of Canadian Cinema & Television for creating the Rob Stewart Award for Best Science or Nature Documentary Program or Series, and especially Anne Marie La Traverse and Teddy Simmons (a lifelong friend of Rob's), whose efforts and support made this possible in such a short time. Thank you!