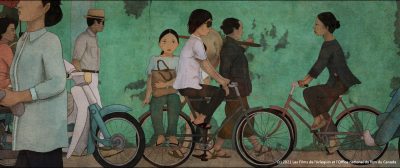 Flowing Home | Như một dòng sông
Nominees:
Sandra Desmazières, Dora Benousilio, Julie Roy
Synopsis:
Two sisters grow up in Vietnam and are separated by the war between North and South. After the fall of Saigon in 1975, Thao, in her teens, must leave the country with her uncle. Her sister Saoi Maï remains with their parents, hoping they will soon be reunited. But their separation will last nearly 20 years.
Deux sœurs grandissent au Vietnam pendant la guerre et vont être séparées par les conséquences du conflit opposant le Nord et le Sud. Après la chute de Saïgon en 1975, Thao doit quitter son pays avec son oncle. Sa grande sœur, Sao Maï, reste avec ses parents, nourrissant l'espoir de la rejoindre bientôt. Mais leur séparation va durer près de vingt ans.