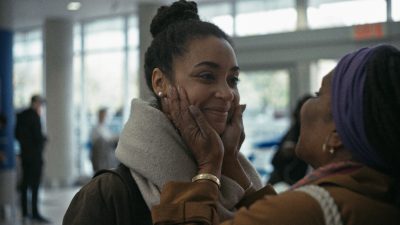 Fanmi
Nominees:
Sandrine Brodeur-Desrosiers, François Bonneau, Carmine Pierre-Dufour
Synopsis:
Heart-broken following a break-up, Martine receives the unexpected visit of her mother, Monique. Too engrossed in her own sadness, Martine doesn't notice right away that her mother is hiding something but, progressively, a bad feeling starts to take hold of her. During this short stay, these two very different women will have one last chance of getting closer to one another before they run out of time.
Martine, en pleine peine d'amour suite à une rupture, reçoit la visite inattendue de sa mère, Monique. Trop prise par son propre chagrin, Martine ne remarque pas tout de suite que sa mère lui cache quelque chose, mais, progressivement, un mauvais pressentiment grandit en elle. Durant ce court séjour, ces deux femmes très différentes auront une dernière chance de se rapprocher avant que le temps ne file entre leurs doigts.