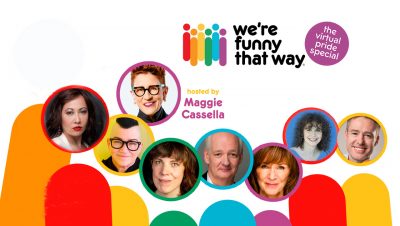 We're Funny That Way: The Virtual Pride Special! The pandemic version of the 19 annual festival on CBC GEM. A fun-filled comedy and music mash-up hosted by WFTW founder/comedian/activist Maggie Cassella. Appearances by Shawnee, Andrea Martin, Lea DeLaria, Martha Chaves, Brandon Ash Mohammed, Gavin Crawford, Colin and Kinley Mochrie, Deb McGrath, Carolyn Taylor, Lucas Silveira, Kate Rigg, and Miss Conception.
Nominees:
Maggie Cassella, Andrew Barnsley, Katie Ford, David Kitching, Benjamin Murray
Channel:
CBC
Broadcaster:
CBC
Production Company:
Project 10 Productions Inc.