(La version en français suivra)
Canadian Academy announces participants selected for the inaugural edition of Women in Post 
Six creators will be actively mentored at some of Canada's most prestigious post production houses
Toronto, October 5, 2021 – Today, the Academy of Canadian Cinema & Television (the Canadian Academy) announced the six participants selected for the inaugural cohort of Women in Post, a program designed to address the barriers to entry and advancement for women in the post production industry.
The Women in Post program provides industry access and professional development for emerging to mid-level creatives who identify as women or non-binary working in all areas of post production. Participants will have the opportunity to develop their technical, creative, and leadership skills through strategic learning modules led by industry experts, and a hands-on mentorship at a post production company in Canada that aligns with their area of expertise. The program participants will also receive a $2,500 honorarium; a complimentary one-year voting membership to the Canadian Academy; and invitations to attend Canadian Screen Week 2022 and the Canadian Cinema Editors' EditCon 2022.
"We are honoured to welcome these talented professionals into the Canadian Academy family," said Beth Janson, CEO of the Academy of Canadian Cinema & Television. "We are confident that this program will provide meaningful career advancement and opportunities for them, and are grateful to our partners for understanding the importance and power of having a diversity of voices and perspectives contributing in all aspects of our industry."
The creators chosen for the first edition of Women in Post bring with them a range of experience from across the creative spectrum, and were selected by a jury of industry professionals led by Nafisa Murji, Director of Talent Development at the Canadian Academy. The participants are:
Brittany Lewis (BC), Editing/ VFX Editing
Elian Mikkola (SK), Editing
Daniela Pinto (ON), Post Production Audio
Ariana Saadat (BC), VFX Supervision
Set Shuter (ON), Post Production Supervision
Penelope Walcott (ON), Post Production Audio
Company 3's VP of Sales (Vancouver) Lindsay Elizabeth Donovan comments "Diversity in creativity is crucial for our industry and programs such as Women in Post are vital in helping correct inequities in the voices we hear and stories we tell. We are incredibly proud to be the lead post house partner for this program as we understand that opportunities to gain first-hand experience and develop skills through strong mentorship are necessities for creatives to build their careers."
Women in Post is presented by Netflix and is supported by lead post house partner, Company 3, and supporting partners, Rocket Science VFX and Urban Prairie Post.
The Canadian Academy strives to foster industry growth, knowledge, inclusion, and mentorship through a series of talent development programs aimed at creating a more equitable and diverse Canadian screen-based industry. In addition to the Women in Post program, programs include the WarnerMedia Access x Canadian Academy Writers Program, a talent activation initiative focused on experienced Canadian writers from underrepresented communities, and the Canadian Academy Directors Program for Women, a professional development program intended to advance the careers of Canadian directors in the media industry. Additional talent development programs will be announced in the coming months.
About the Academy of Canadian Cinema & Television
The Academy of Canadian Cinema & Television is the largest non-profit professional arts organization in Canada. We are dedicated to recognizing, advocating for, and celebrating Canadian talent in the film, television, and digital media sectors. Our more than 4,000 members encompass industry icons and professionals, emerging artists, and students. Collectively, we deliver professional development programs and networking opportunities that foster industry growth, inclusion, and mentorship.
The Academy of Canadian Cinema & Television proudly acknowledges the support of its Premier Partner, Telefilm Canada; Platinum Partners, CBC and CTV; Principal Partner, Netflix; and its Lead Partners, the Canada Media Fund, Cineplex, and the Cogeco Fund.
For information on membership and programming visit academy.ca.
About Company 3
Company 3 is a post-production company founded in 1997 and provides post production, color grading, in-house and location dailies and editorial suites; visual effects; and online editorial services for feature film, episodic television and commercial work. Known for its creative color artistry, pioneering technology and global reach, Company 3 is trusted to consistently deliver high-quality results for its clients.
About Netflix
Netflix is one of the world's leading entertainment services with 209 million paid memberships in over 190 countries enjoying TV series, documentaries and feature films across a wide variety of genres and languages. Members can watch as much as they want, anytime, anywhere, on any internet-connected screen. Members can play, pause and resume watching, all without commercials or commitments.
-30-
View program logos, participant headshots, and biographies here.
The Academy of Canadian Cinema & Television:
Website: www.academy.ca
Twitter: @TheCdnAcademy
Instagram: @thecdnacademy
Facebook: @TheCdnAcademy
YouTube: The Canadian Academy
Media Inquiries:
Natalie Grossi | Director, Marketing & Communications
---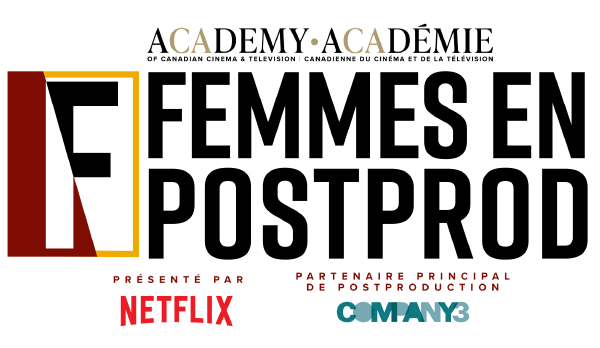 L'Académie canadienne annonce les participantes de la première édition du programme Femmes en postprod
Six créatrices bénéficieront d'un mentorat sur mesure au sein des compagnies de postproduction les plus prestigieuses du Canada
Toronto, le 5 octobre 2021 – Aujourd'hui, l'Académie canadienne du cinéma et de la télévision (l'Académie canadienne) a annoncé les noms des six participantes sélectionnées pour faire partie de la première cohorte du programme Femmes en postprod, qui vise à faire tomber les obstacles à la carrière des femmes dans l'industrie de la postproduction.
Le programme Femmes en postprod offre un accès à l'industrie et une occasion de perfectionnement professionnel aux créatrices émergentes et à mi-carrière s'identifiant comme femmes ou comme personnes non binaires et travaillant dans toutes les sphères de la postproduction. Les participantes auront l'occasion d'acquérir un savoir-faire technique et créatif et des compétences de leadership, grâce à des modules d'apprentissage stratégiques dirigés par des expert.e.s de l'industrie, ainsi qu'un programme de mentorat sur le terrain dans une compagnie de postproduction canadienne correspondant à leur champ d'expertise. Les participantes recevront aussi un cachet de 2 500 $, une adhésion gratuite d'un an comme membre votante à l'Académie canadienne et des invitations à la Semaine du Canada à l'écran 2022 et à l'EditCon 2022 du CCE.
« Nous sommes honoré.e.s d'accueillir ces professionnelles de talent dans la grande famille de l'Académie canadienne », a déclaré Beth Janson, chef de la direction à l'Académie canadienne du cinéma et de la télévision. « Nous sommes persuadé.e.s que ce programme fera progresser de manière significative la carrière des participantes et leur procurera de véritables occasions professionnelles. Nous remercions nos partenaires d'avoir compris l'importance et le besoin d'avoir une diversité de voix et de perspectives au sein de tous les aspects de l'industrie. »
Les créatrices sélectionnées à la première édition du programme Femmes en postprod représentent un vaste éventail d'expériences créatives et ont été choisies par un jury de professionnel.le.s de l'industrie mené par Nafisa Murji, directrice des programmes de perfectionnement professionnel à l'Académie canadienne. Les participantes sont :
Brittany Lewis (C.-B.), montage/montage des effets visuels
Elian Mikkola (Sask.), montage
Daniela Pinto (Ont.), postproduction sonore
Ariana Saadat (C.-B.), supervision des effets visuels
Set Shuter (Ont.), supervision de la postproduction
Penelope Walcott (Ont.), postproduction sonore
Lindsay Elizabeth Donovan, vice-présidente des ventes à Company 3 (Vancouver), a commenté l'annonce en ces termes : « La diversité dans le secteur créatif est essentielle à notre industrie, et des initiatives comme le programme Femmes en postprod sont cruciales, car elles contribuent à corriger les inégalités qui affectent les voix et les histoires que nous entendons. Company 3 est extrêmement fier d'être le partenaire principal de postproduction de ce programme. Nous comprenons que de telles occasions d'acquérir une expérience sur le terrain et d'élargir ses compétences grâce à du mentorat sont nécessaires pour propulser la carrière des créatrices. »
Le programme Femmes en postprod est présenté par Netflix, avec le soutien de Company 3, partenaire principal de postproduction, et de Rocket Science VFX et Urban Prairie Post, partenaires de soutien.
L'Académie canadienne souhaite encourager la croissance, la connaissance, l'inclusion et le mentorat au sein de l'industrie par une série de programmes de perfectionnement professionnel visant à créer une industrie canadienne des médias de l'écran plus équitable et diversifiée. En plus du programme Femmes en postprod, les programmes offerts incluent le programme WarnerMedia Accès x Académie canadienne pour scénaristes, une initiative d'activation de talents axée sur les scénaristes canadien.ne.s d'expérience issu.e.s de communautés sous-représentées, et le Programme de l'Académie canadienne pour les réalisatrices, un programme de perfectionnement professionnel visant à faire avancer la carrière des réalisatrices canadiennes dans l'industrie des médias cinématographiques et télévisuels. D'autres programmes de perfectionnement professionnel seront annoncés dans les mois à venir.
À propos de l'Académie canadienne du cinéma et de la télévision
L'Académie canadienne du cinéma et de la télévision est le plus grand organisme artistique professionnel à but non lucratif au Canada. Sa mission est de reconnaître, défendre et célébrer les talents canadiens dans les secteurs du cinéma, de la télévision et des médias numériques. L'Académie compte plus de 4 000 membres, qui incluent tant des vedettes et des professionnel.le.s de l'industrie que des artistes émergent.e.s et des étudiant.e.s. Elle met en place des programmes de perfectionnement professionnel et des occasions de réseautage, qui contribuent à la croissance de l'industrie, à l'inclusion et au mentorat.
L'Académie canadienne du cinéma et de la télévision remercie ses partenaires pour leur soutien : Téléfilm Canada, premier partenaire ; CBC et CTV, partenaires platine ; Netflix, partenaire principal ; ainsi que le Fonds des médias du Canada, Cineplex et le Fonds Cogeco, grands partenaires.
Pour de l'information sur les adhésions et la programmation, veuillez consulter academy.ca.
À propos de Company 3
Company 3 est une compagnie de postproduction fondée en 1977 et fournissant des services de postproduction, d'étalonnage colorimétrique et de traitement des épreuves en laboratoire ou sur les lieux de tournage, ainsi que des salles de montage et des services d'effets visuels et de montage en ligne pour les longs métrages de cinéma, les séries télévisées et la publicité. Réputée pour l'excellence de son travail créatif sur les couleurs, ses technologies de pointe et son envergure internationale, Company 3 assure invariablement à ses clients des résultats de la plus haute qualité.
À propos de Netflix
Avec plus de 209 millions d'utilisateurs payants, qui profitent de séries, de documentaires et de films dans une multitude de genres et de langues dans plus de 190 pays, Netflix est l'un des leaders mondiaux du divertissement en ligne. Les abonnés Netflix bénéficient d'un accès illimité aux programmes, où et quand ils le souhaitent, sur les écrans connectés. L'utilisateur peut regarder, suspendre et reprendre la lecture de ses programmes à tout moment, sans aucune publicité.
-30-
Les logos des programmes, ainsi que les portraits et les biographies des participantes, sont disponibles ici.
L'Académie canadienne du cinéma et de la télévision
Site Web : www.academy.ca
Twitter : @TheCdnAcademy
Instagram : @thecdnacademy
Facebook : @TheCdnAcademy
YouTube : The Canadian Academy
Contact médias :
Natalie Grossi | Directrice du marketing et des communications