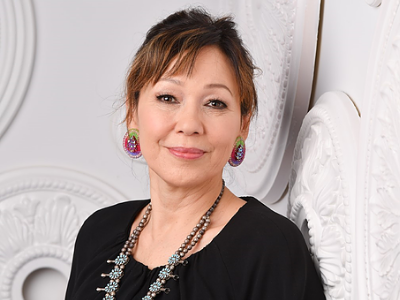 Tina Keeper, Norway House Cree Nation, is best known for her work on the hit television series North of 60. In 2010, she partnered with Buffalo Gal Pictures to create Kistikan Pictures Inc. to collaborate in the development and production of Indigenous film and television. Most recently, Tina Keeper acted in the illustrious film Falls Around Her by Anishinaabe director Darlene Naponse, and in 2018, she acted in and co-produced the feature film Through Black Spruce with Serendipity Point Films. In 2017, she co-produced the 360 3D VR short film Sky Stories with Tangent Animation. In 2015, she produced the feature film Road of Iniquity by Maliseet director Mark Ennis. In 2014, she co-produced Going Home Star, a full-length ballet co-produced by the Royal Winnipeg Ballet and the Truth and Reconciliation Commission. From 2010 to 2013, she produced Cashing In, a dramatic series for APTN. Finally, also in 2013, she produced a short documentary for MTSOnDemand called The REDress REdress Project.
_______________________________
Tina Keeper, membre de la nation crie de Norway House, est surtout connue pour son travail sur la série télévisée à succès North of 60. En 2010, elle s'est associée à Buffalo Gal Pictures pour créer Kistikan Pictures Inc. afin de collaborer au développement et à la production de contenu cinématographique et télévisuel autochtone. Plus récemment, elle a participé à l'illustre film de la réalisatrice anichinabée Darlene Naponse, Falls Around Her, et en 2018, elle a joué dans le long métrage Through Black Spruce, qu'elle a coproduit avec Serendipity Point Films. En 2017, elle coproduit avec Tangent Animation Sky Stories, un court métrage en réalité virtuelle à 360 degrés et en 3D. En 2015, elle produit le long métrage Road of Iniquity du réalisateur malécite Mark Ennis. En 2014, elle travaille en coproduction avec le Royal Winnipeg Ballet et la Commission de la vérité et de la réconciliation sur le long métrage Going Home Star. De 2010 à 2013, elle produit Cashing In, une série dramatique pour le réseau APTN. Enfin, en 2013, elle produit un court métrage documentaire pour MTSOnDemand appelé The REDress REdress Project.