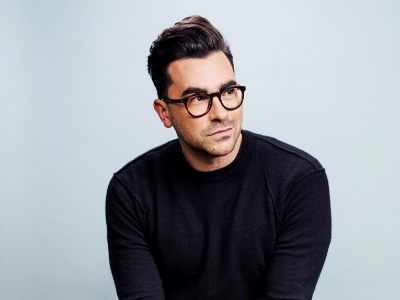 Sponsored by 

Dan Levy is an Emmy® nominated showrunner, and a writer, director, producer and actor, best known for his work on Schitt's Creek, which he co-created with his father, Eugene Levy. In 2019, the show earned four Emmy® nominations, including Best Comedy Series. In addition to showrunning, writing, and directing, Dan Levy also stars alongside Eugene Levy, Catherine O'Hara, Annie Murphy, and Chris Elliott. Now heading into its sixth season on CBC in Canada and on Pop TV in the U.S., the first five seasons of Schitt's Creek are currently streaming on Netflix.
________________________________________
Dan Levy est un auteur-producteur nommé pour un prix Emmy® et un scénariste, réalisateur, producteur et acteur surtout connu pour son travail sur la série Schitt's Creek, qu'il a créée en collaboration avec son père, Eugene Levy. En 2019, l'émission était en nomination pour quatre prix Emmy®, dont celui de meilleure série humoristique. En plus d'agir à titre d'auteur-producteur, de scénariste et de réalisateur, Dan Levy donne également la réplique à Eugene Levy, Catherine O'Hara, Annie Murphy et Chris Elliott. Schitt's Creek entreprendra bientôt sa sixième saison sur les ondes de la CBC au Canada et de Pop aux États-Unis. Les cinq premières saisons de la série sont actuellement disponibles pour visionnement en continu sur Netflix.