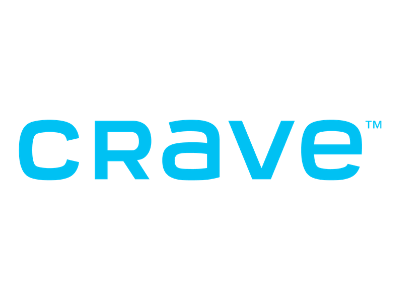 Five years after it first launched, Crave stands out as a world-class service with a distinctly Canadian voice. Crave is an ongoing supporter of Canada's television and film industries and provides a platform for homegrown projects and talent, including the recent Crave original documentaries Once Were Brothers: Robbie Robertson and The Band, Sharkwater: Extinction, and Anthropocene: The Human Epoch. Its library of original productions includes smash-hit original comedy Letterkenny; true-crime send-up New Eden; the much-anticipated Canada's Drag Race; darkly comedic doc series We're All Gonna Die; and dozens of Crave-supported Canadian films including The Grizzlies, The Song of Names and Code 8. Additionally, Crave has partnered with vital Canadian film and TV institutions such as TIFF, Hot Docs, and Inside Out to create specially-curated collections spotlighting titles outside of their festival windows. With more Emmy® Award-winning programming than any other service in Canada, and as the home of HBO, SHOWTIME®, Starz, and HBO MAX originals, Crave has planted its flag firmly among the world of streaming juggernauts, with a promise of continuing to deliver Canadians the most premium content in the world.
____________________________
Cinq ans après son lancement, Crave se démarque comme un service de classe mondiale avec une voix distinctement canadienne. Crave offre un soutien continu aux industries canadiennes de la télévision et du cinéma et une plateforme pour les projets et les talents locaux, y compris les récents documentaires originaux Once Were Brothers: Robbie Robertson and The Band, Sharkwater: Extinction et Anthropocene: The Human Epoch. Sa bibliothèque de productions originales comprend la comédie à grand succès Letterkenny; la parodie s'inspirant de crimes véritables New Eden; la série très attendue Canada's Drag Race; la série documentaire sinistrement drôle We're All Gonna Die; et des dizaines de films canadiens financés par Crave, dont The Grizzlies, The Song of Names et Code 8. De plus, le service s'est associé à des institutions canadiennes essentielles des domaines télévisuels et cinématographiques comme TIFF, Hot Docs et Inside Out pour créer des collections spécialement conçues visant à mettre en valeur des titres à l'extérieur de la période de leur festival. Crave offre plus d'émissions primées aux Emmy® qu'aucun autre service au Canada et des émissions originales de HBO, SHOWTIME®, Starz et HBO MAX. C'est ainsi qu'il s'est résolument établi parmi le monde des mastodontes de la diffusion en continu, avec la promesse de continuer à offrir aux Canadiens et aux Canadiennes le meilleur contenu au monde.