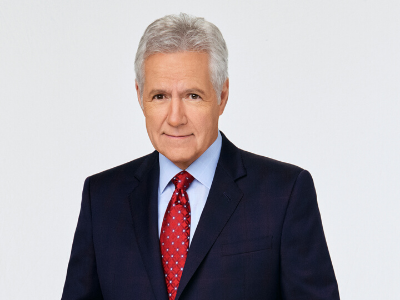 Alex Trebek has been the host of JEOPARDY! since the syndicated debut of America's Favorite Quiz Show® in 1984. He has won six Daytime Emmy® awards for Outstanding Game Show Host and a Lifetime Achievement Award from the National Academy of Television Arts and Sciences. He has also been honoured with a Guinness World Records® record for Most Game Show Episodes Hosted by the Same Presenter. He has hosted more than 8,000 episodes of JEOPARDY! (and counting). Born in Sudbury, Ontario, Mr. Trebek now lives in Los Angeles with his wife, Jean. They have two adult children, Matthew and Emily.
_________________________________
Alex Trebek anime JEOPARDY! depuis le début de l'émission souscrite America's Favorite Quiz Show® en 1984. Il a remporté six prix Daytime Emmy® dans la catégorie d'animateur exceptionnel d'un jeu télévisé et le Prix d'excellence pour l'ensemble d'une carrière décerné par la National Academy of Television Arts & Sciences. Son nom figure également dans le livre Guinness World Records® pour son record de plus grand nombre d'émissions de jeux télévisés présentées par le même animateur. Il a animé plus de 8 000 épisodes de JEOPARDY! (et ce n'est pas fini). Originaire de Sudbury, en Ontario, M. Trebek vit maintenant à Los Angeles avec sa femme, Jean. Ils ont deux enfants adultes, Matthew et Emily.