A Tribute to Kevin Tierney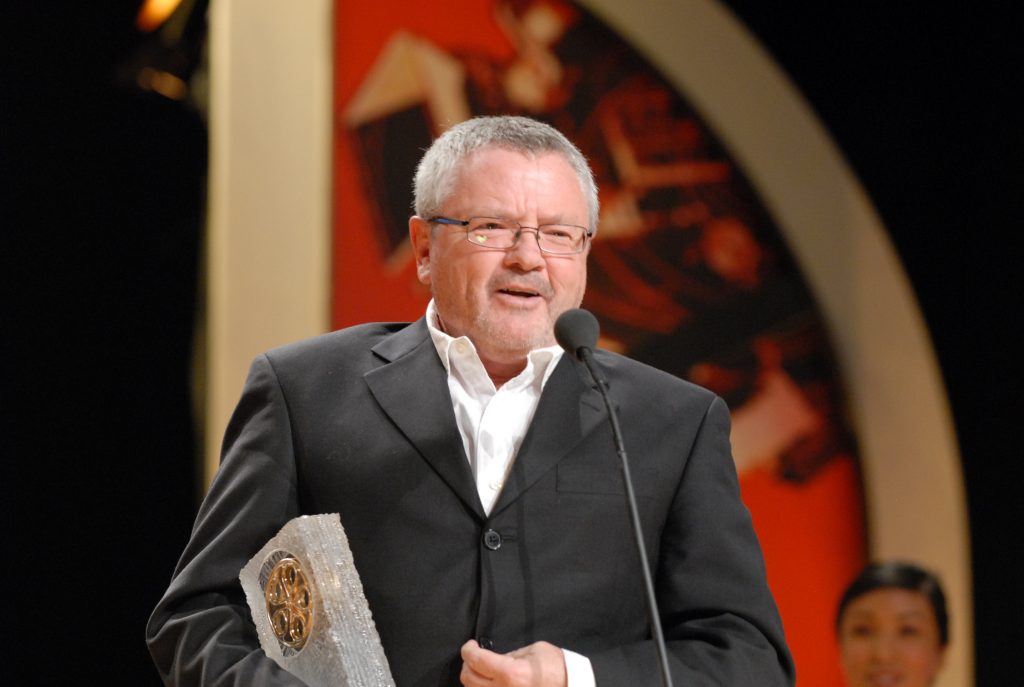 "I do not want a funeral," the late Canadian producer and filmmaker Kevin Tierney wrote in a statement released posthumously by his son Jacob. "If there is to be a memorial service, then I would like it to be more Irish in flavor than somber. … Let anyone speak who has the desire to do so, eulogies and praise be spared in favor of truth and humour. Especially the latter. And please, in more than just those two languages."
It's been over two weeks since the passing of Kevin Tierney on May 12th, 2018, who died at the age of 67 after a particularly difficult battle with cancer, but the Academy of Canadian Cinema & Television continues to feel the loss of a man whose love of languages translated to big screen laughs, well-intentioned fun, and hearts full of Canadian pride.

Tierney, once the vice-chair of the Academy and recipient of the Canadian Film and Television Association's Producer's Award, was an immensely kind, extraordinarily funny man who made it his life's work as a Canadian film producer to mine the comedic rift between English and French Canada, in doing so producing and co-writing 2006's Bon Cop, Bad Cop, still one of the highest grossing Canadian films of all time.

The film was, and remains, something of a unicorn: a bilingual, financially successful, equal opportunity spoof of the Two Solitudes that plays just as well in Thunder Bay as it does in Jonquière.

It's also indelible — one of the few Canadian films that have managed to penetrate the collective Canadian consciousness around the country, a prize as valuable to Tierney as the Golden Reel Award it won in 2006. In other words, Canadians know about Bon Cop, whether or not they've watched it — a situation that sadly isn't the norm in Canada.

Tierney cheekily admitted the thanklessness of film production in 2010 to CBC Radio's C'est la vie, a program that explores Francophone life in Canada. "I'm a film producer," Tierney used to tell people in his day-to-day life. "Anything I would have seen?" they'd say, to which Tierney would reply: "No, I wouldn't think so."

Of course, that was before Bon Cop, a film that seemed to garner almost as many accolades as it did box office dollars, including the 2006 Genie Award for Best Picture.

But Tierney's filmography extended far beyond Bon Cop, showcasing a commitment to telling some of Canada's most compelling — indeed, urgent — stories. On his list is 2003's Choice: The Henry Morgentaler Story, a depiction of the doctor who advocated for legalized abortion, and 2006's One Dead Indian, a TV movie about the 1995 police shooting of Ojibwa protestor Dudley George. (Tierney even had the pleasure of producing 2009's The Trotsky, his son Jacob's film about a young man who believes himself to be the incarnate of the titular revolutionary socialist.)

He'll be remembered as a film producer, but he was an equally talented screenwriter and columnist, regularly penning arts coverage and analysis for the Montreal Gazette. And we can't forget about his 2011 directorial debut, French Immersion, described by Kevin as "My Big Fat French Lesson" and nominated for three Canadian Comedy Awards in 2012.

"I think of myself as a storyteller and I like to tell stories," he told C'est la vie in 2010, going on to describe how bonne humeur was always top of mind. "I have a vaguely ironic view of the world, and I think it's more interesting to make fun of ourselves and to have a laugh."

He will be sorely missed by the world of Canadian film and television. Repose en peace.



Written for the Academy by Jake Howell.


Bon Cop, Bad Cop Trailer