Some of you know his name and some of you may not, but most of you will recognize his work. Simcha Jacobovici is a multi award-winning documentary director and producer, investigative journalist, TV host, and New York Times best selling author.
He has been nominated four times and has won an unprecedented three Emmys in the category of "Outstanding Investigative Journalism". He is the recipient of an Alfred I. DuPont-Columbia Award for Excellence in Broadcast journalism, two Donald Brittain Awards presented by the Academy, a Canadian Screen Award, and a Certificate of Special Merit from the Academy of Motion Picture Arts and Sciences in Los Angeles.
His documentaries include The Exodus Decoded and The Lost Tomb of Jesus, both of which were executive produced by fellow Canadian, James Cameron.
An Israeli-Canadian, Jacobovici may be best known for his work as The Naked Archaeologist, in which he channels his inner Michael Moore while travelling the Middle East, seeking to uncover the truth behind biblical events.  Jacobovici has been a sought after guest speaker and lecturer at numerous conferences and throughout various campuses including Yale, Johns Hopkins, McGill, UCLA and York University. He has written for The New York Times, the International Herald Tribune, The Globe and Mail, The Los Angeles Times and the Boston Globe, as well as blogs for the Huffington Post and the Jerusalem Post.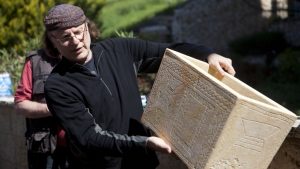 Fluent in four languages: English, French, Hebrew and Romanian, Jacobovici is also the co-director of the Bethsaida Excavation in Galilee, Israel, and project director of the Talpiot Tomb Excavation in Jerusalem.
Gordon Sinclair Award for Broadcast Journalism is presented to a Broadcast Journalist for an exceptional body of work in Canadian television journalism, or for significant contribution to the international profile of Canadian television journalism not necessarily in a single year.