Kim's Convenience
TV
A single camera comedy, Kim's Convenience tells the funny and heartfelt story of the Kim family's trials of running a literal 'Mom and Pop' shop. Mr. and Mrs. Kim are Korean Canadian convenience store owners that have worked hard to give their now-twenty-something children, Janet and Jung, a better life in Canada.


Ivan Fecan, Ins Choi, Kevin White, Albert Schultz, Leslie Lester, Alexandra Raffé, Tim Gamble, Sandra Cunningham, Robin Cass, Garry Campbell, Anita Kapila
Also Nominated for...
Best Performance by an Actor in a Featured Supporting Role or Guest Role in a Comedic Series

Andrew Phung
Kim's Convenience:
Janet's Photos / Ddong Chim
Best Performance by an Actor in a Continuing Leading Comedic Role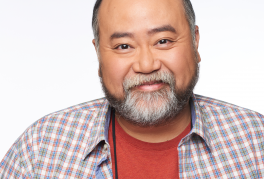 Paul Sun-Hyung Lee
Kim's Convenience